Ah, heavy cream, one of life's little luxuries. Often found in both sweet and savoury recipes, you could go as far as saying it's a staple ingredient. However, sometimes, we require a substitute for the whipped goodness that is heavy cream. Perhaps you're trying a new vegan spin on your favourite recipe, you want to skim down on the fat content, or maybe you've found yourself out of key ingredient when you've already found your flow in the kitchen. No matter the reason that you need to swap out your heavy cream for a delicious substitute, you'll be pleased to know there are plenty of tried and tested options out there that you can try out.  
While heavy cream contains between 36 to 40 per cent milkfat, double that of the amount found in half-in half, it can sometimes be a little difficult to fill the dairy void. Because of this, it can sometimes be challenging to achieve the same decadence and richness that heavy cream brings to the table. Therefore, these heavy cream substitutes might not hit the spot when it comes to making whipped cream; however, they're the perfect replacement in most other recipes.
If you're in search of super simple heavy cream substitutes that will make cooking up your favourite recipes minus the dairy a breeze, you'll want to try these recipes. Think minimal fuss, maximum results that are sure to keep even the most discerning diner happy.
1. Milk and Butter
Perhaps one of the easiest swaps you'll find in this guide, the humble yet practical milk and butter combination. A straightforward yet effective way to swap out heavy cream that will provide decent results for a majority of recipes. Thanks to the butter, you'll be adding in the extra fat that will roughly match the fat percentage comparable to heavy cream. As with most of our substitutes, it's worth keeping in mind that although milk and butter is good to replace heavy cream in baking and cooking recipes, it won't whip to little mounds of deliciousness in the same way heavy cream will.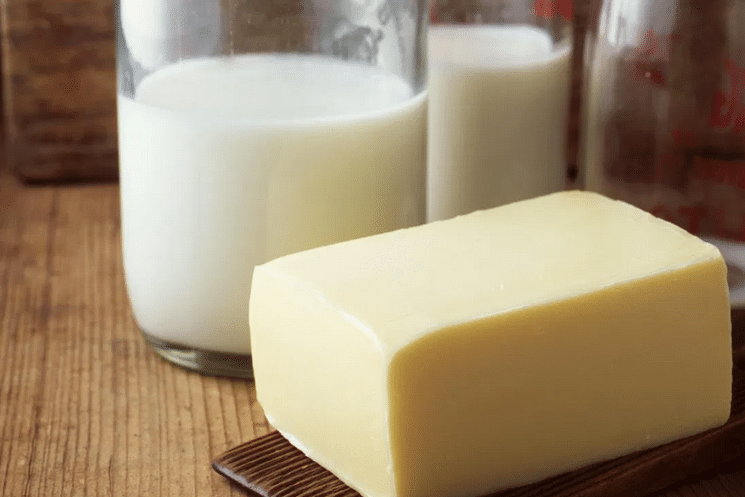 Method
To create this substitute, combine ¼ cup of melted butter with ¾ cup of milk to replace 1 cup of heavy cream. If you'd like the consistency to be a little thicker, you can add a tablespoon of flour too.
Ingredients you'll need: Milk, butter, flour.
2.) Milk and Cornstarch – healthy
Working wonders as a low-calorie, low-fat alternative to heavy cream, this is another straight-forward replacement that we're sure you'll love. This substitute works best for cooking, we have found that sometimes it can alter the texture of baked foods and won't whip like heavy cream. The cornstarch works to thicken the milk without the need to increase the fat content, hence why this substitute is one of the healtiest on the list. If you want to trim off even more calories and fat, you can use skimmed or semi-skimmed milk, increasing the constarch accordingly.
Method
Mix two tablespoons of cornstarch with 1 cup of milk before stirring well then leave to stand to allow the mixture to thicken. If you're using skimmed milk opposed to whole milk, you might need to add an extra tablespoon of cornstarch.
Ingredients you'll need: Cornstarch and milk of your choice.
3.) Soy Milk and Olive Oil – vegan
If you're a big fan of vegan cooking, no doubt this is the replacement you've been searching for. As one of the most straightforward vegan, dairy-free alternatives to cream, this is a very popular choice with chefs and home cooks alike. Similar to the genius union of milk and butter, adding olive oil to soy milk creates a substitute with the fat, flavour and function to rival heavy cream minus the diary. This is a popular substitute for both baking and cooking, although it should be avoided for any recipes that call for whipping.
Method
Combine 2/3 cup of soy milk with 1/3 cup of olive oil to substitute the thickness of 1 cup of heavy cream.
Ingredients you'll need: Soy milk and olive oil.
4.) Greek Yogurt and Milk – healthy
If you're on the lookout for a high protein substitute that can provide a healthy twist to your most-loved recipes, milk and Greek yoghurt is the perfect pairing for you. Although it will be a little thicker than heavy cream, you can always add some more milk to thin it down if needed. This swap out is good for savoury cooking; however, may not produce the best results in sweat treats and baked goods. If you have a recipe that requires whipping, Greek yoghurt and milk isn't the pairing for you. However, for healthy spins on your favourite savoury recipes, it's the perfect match.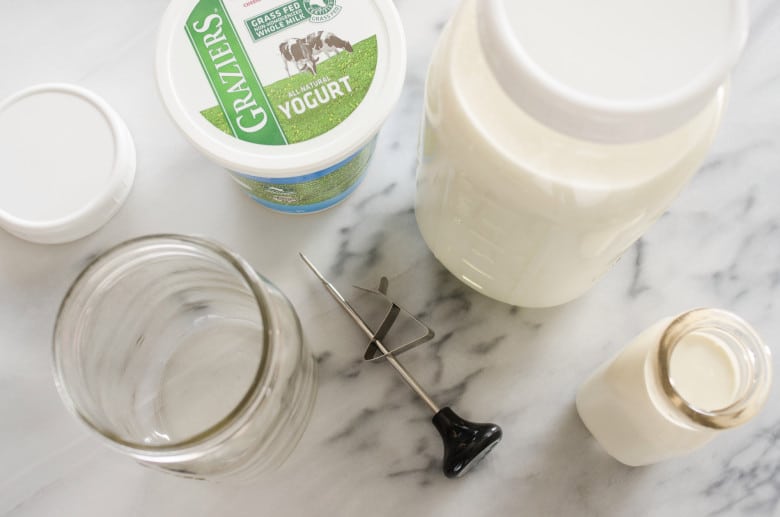 Method
Blend equal parts of whole milk and Greek yoghurt and use it in place of the same amount of heavy cream required in the recipe.
Ingredients you'll need: Milk and Greek yoghurt.
5.) Half and Half and Butter – lower in fat
Containing less fat than heavy cream, a simple yet effective switch out is butter and half-and-half cream. Half-and-half is a blend of 50% whole milk paired with 50% light cream, containing just 10 to 12% fat content. This is significantly lower than heavy cream, even when you consider the butter added, it's a healthier option for sure. This substitute is the perfect solution the majority of recipes, including those that entail whipping. If you're making a recipe that requires cream to be whipped into stiff peaks, half-and-half cream with butter, be prepared for a fair amount of whipping. However, for a fuss-free swap out, this substitute is perfect for cooking and baking.
Method
To swap out 1 cup of heavy cream, you'll need to mix 7/8 cup of half and half cream along with 1/8 cup of melted butter.
Ingredients you'll need: Half and half cream and butter.
6.) Evaporated Milk – healthy
If you don't feel like overexerting yourself in the kitchen, evaporated milk is the solution for you. The canned, shop-bought swap out is a milk product containing around 60% less water than regular milk, making It a simple low-calorie alternative in certain recipes, mainly baked goods. What's more, because evaporated milk is just condensed milk minus the added sugar, it makes for a healthier choice than regular milk substitutes. However, with the lower fat content, evaporated milk doesn't offer a thickness to match heavy cream, so it won't whip very well.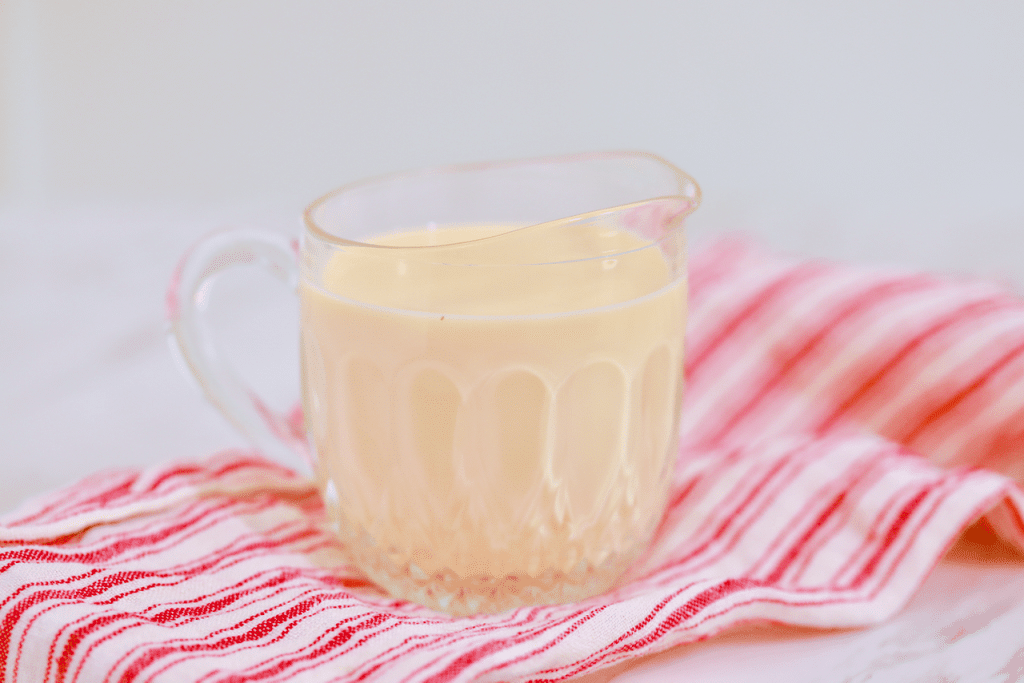 Method
For optimal results, swap out heavy cream with an equal amount of evaporated milk in your recipe.
7.) Coconut Cream – vegan
As one of the most popular substitutes when it comes to vegan cooking, coconut cream can be picked up in-store or made at home. It's worth noting that although coconut cream is similar in consistency to heavy cream, it may alter the overall flavour in your recipe. Ideally, you'll use coconut cream in sweeter recipes rather ran savoury. Coconut cream is the perfect substitute for ice cream, pie toppings and even as frosting. If you fancy making your own coconut cream, you can do so in less than an hour, however, we're not judging you if you take it from the can.
Method
For easiest results, you simply need to chill a can of full-fat coconut milk overnight. The following day, drain away the liquid and use the thick coconut cream as a substitute. Use an equal amount in place of the heavy cream.
8.) Cream Cheese
Made from a blend of milk and cream, cream cheese makes for a good substitute for heavy cream as it has a similar consistency. However, you do need to consider that when using cream cheese as a substitute, it's important to keep in mind that it will change the texture and taste of the final outcome. Because of this, it's best used as a substitute in savoury recipes which will accommodate the flavour. Think soups, frosting and cheesy sauces. Cream cheese won't work well for any recipes that require whipping, there are much better dairy options for that.

Method
Cream cheese works as a one-to-one substitute in place of heavy cream. Super simple but works a treat!
Ingredients you'll need: Cottage cheese and milk.
10.) Silken Tofu and Soy Milk – vegan
Okay, this one might take a little getting used to, but it really does work. Although in its standard form, silken tofu is solid, it can be crafted into a high-protein, dairy-free substitute for heavy cream, while the soy milk offers an improved texture. If you're not keen on soy milk, you can use any other plant-based milk or regular milk. Surprisingly, this substitute can be whipped like heavy cream so if you throw in a sprinkle of sugar and some vanilla extract; it makes a wonderful vegan whipped cream, perfect for that sweet tooth.
Method
Mix equal parts soy milk and silken tofu and blend thoroughly until totally smooth and thick. Then, simply use it in place of heavy cream in equal parts for recipes.
Ingredients you'll need: soy milk or alternative of your choice, silken tofu and vanilla extract and sugar for sweet recipes.
11.) Cashew Cream – vegan
Another fantastic vegan substitute that offers a much milder flavour that coconut cream is cashew cream. What's more, you can pick it up in-store, so you don't need to make it at home unless you want to, note that it will take a few hours. If you're buying in-store, be sure that you choose for the non-sweetened variety for savoury recipes. What was once one of the vegan world's best kept secrets, cashew cream is now one of the most favoured substitutes for pastas, soups, pies and so much more. The only down side it that it won't whip.
Method
Chill the can of cashew cream overnight and remove any excess water before replacing in equal parts in place of heavy cream in your recipe.
12.) Heavy Cream Powder
If you're looking for something to pop in the pantry and forget about until you need it, you can actually by heavy cream powder that will certainly serve its purpose. Although it can be hard to come by a number of brands, do offer this handy solution. One brand to keep a lookout for is 'Anthony's Heavy Cream Powder'.
13.) Brown rice and low-fat milk – healthy (can be vegan if dairy free alternative is used in place of the milk)
Stick with us on this one, it actually works pretty well in as a healthy substitute in savoury recipes. Also, unlike other healthy substitutes such as yoghurt and milk, it won't curdle so you can rest assured you won't be spoiling your recipe at the last hurdle. You can also make this substitute vegan if you swap out the milk for a dairy-free alternative.
Method
To create the equivalent of 3 cups of heavy cream best used in soups, mix 2 cups of chicken stock with half a cup of uncooked instant brown rice. Next, you'll need to cook it through before allowing to cool. For the final step, you need to add in 1 cup of 1-per cent low-fat milk and blend until totally smooth.
Ingredients you'll need: Brown rice, chicken stock, 1-per cent low-fat milk.
14.) White Beans – healthy, vegan
These pureed pulses make for a decent replacement in strews and soups, working well to thicken the dish while adding fibre, protein and nutrients.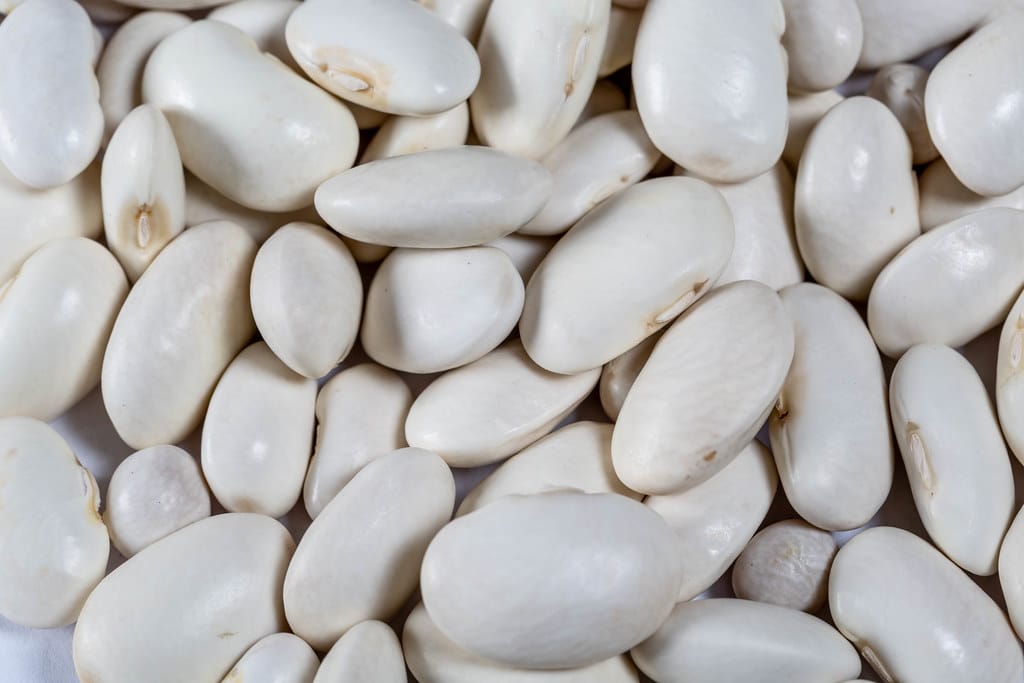 Method
Simply switch out each cup of heavy cream with one cup of pureed pulses.
Ingredients you'll need: White beans
15.) Light cream – lower fat
This is one for those that really want a no-fuss solution. Because light cream is a much thinner texture, this simple substitute is best used in soups and liquid recipes. But, if you simply want to reduce some of the fat and calorie content, it's a simple switch that works well in most liquid savoury recipes.
Ingredients you'll need: Shop-bought light cream.
Who knew that there where 15 substitutes for heavy cream? In fact, there are actually more. But, we've hand-picked 15 of the best tried and tested heavy cream substitutes that are sure to make you nail your recipes with minimal fuss and stress. From low fat and vegan options to substitutes that stick with diary but with a twist, there is something to suit every diet and any preference, you just need to get a little creative in the kitchen! Happy cooking!